NEW BALANCE FOOTWEAR & DIABETIC FOOTWEAR IN BUFFALO, NY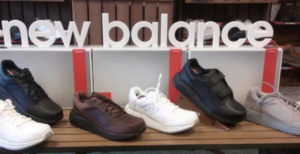 Starting back in 1946 as an orthopedic shoe store, founder Arthur C. Hook Sr. built us up to all we are today, serving men and women throughout the Buffalo, NY region with the best athletic shoes, diabetic footwear, and more.
Here at Hook's Shoes, the customer always comes first. We do all we can to make sure you put your best feet forward, so we strive to find the best fit just for you.
VISIT OUR NEW BALANCE PROFESSIONAL FITTERS!
At our shoe store, we carry an array of products to suit all of your needs. We have a number of different styles, brand names, including New Balance footwear, sizes, and accessories. Whether you're looking for the best gym shoes or winter boots, you will find them in our store. Whatever footwear you need, we are confident we can find the right shoes.
We can also provide you with professional shoe fitting service to find the right fit for you. For quality products and exceptional customer service, stop by our shoe store or reach out to us.
RUNNING, TRAINING & FITNESS FOOTWEAR!
We carry various styles of athletic shoes. Everything from casual exercise, to running, and gym routines.
From quality running shoes to quality hiking shoes, we carry a collection of sizes and widths, brands and styles to fit your feet perfectly.