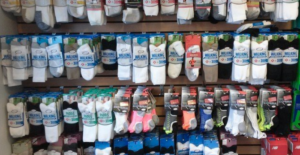 BEST GYM SHOES IN BUFFALO, NY
We make custom fitted shoe inserts for a perfect fit that feels so much better than factory, premade inserts. Comfort is the key when it comes to your footwear, and Hook's Shoes staff strives to provide the best comfort possible for the Buffalo, NY area.
In addition to custom fitted inserts, we accept prescriptions for heel and sole lifts, heel cushions, or any prescribed shoe modifications for your quality running shoes, diabetic footwear, and other sneakers. Just bring in your prescription, and we'd be happy to help!
A NUMBER OF ACCESSORIES AVAILABLE AT OUR SHOE STORE!
Hook's Shoes carries shoe horns, laces, orthotics, Thorlo socks, and more, all of which can make your shoe experience that much more comfortable.
If you're unsure of what you need to make yourself more comfortable, just stop in or call 716-819-8075. We would be happy to listen to your discomforts and do everything in our power to come up with a solution.
COME BY & VISIT US TODAY!
Reach out to us with any questions you may have or stop by our store for high-quality products and personal service!